Computational Fluid Dynamics (CFD)
WTS | First Defense has included the critical infrastructure market as part of our spectrum of services. Our Computational Fluid Dynamics (CFD) experience is derived from our direct participation in cold aisle containment builds along with the scope of preliminary analysis that is necessary to implement. In addition, our engineers have direct CFD experience in the power plant industry regarding heat transfer and fluid flow analysis.

Typically utilize COTS (Commercial Off the Shelf) software to monitor data floors and existing components to offer a complete re-development of the data floor areas. All input information is uploaded to a secure high performance computing cluster for processing and analysis.
Real time adjustments to inlet and exit temperatures can be made on location to improve design and energy efficiency.
The completed analysis is shared with the customer. Our engineers then assist with the interpretation of the results and make recommendations on a path forward to improve outcome.
An example of the types of models that can be created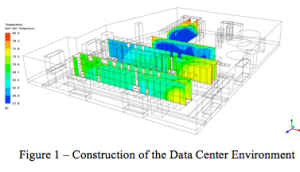 An example of a "What If " scenarios. For example, "Can we reduce inlet temperature with low cost baffling?"