Embracing the Communities We Call Home
WTS | First Defense believes in making a positive impact on the communities in which we live and work.  We are proud to be able to give back and gladly do so.  We give our time and energy whether it is teaching, volunteering or donating to worthy causes.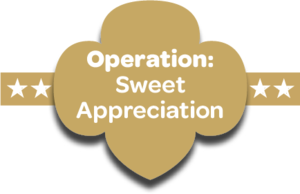 Through Operation: Sweet Appreciation, WTS | First Defense helped Girl Scouts Western Pennsylvania send cookies to our U.S. military active duty and veteran service member organizations.
25
WTS | First Defense adopted a Navy Seal soldier by sending care packages.  Before becoming a SEAL, candidates are put through some of the most mentally challenging and physically demanding training in the world.  Basic Underwater Demolition Seal Training (BUDs) is designed to find and develop men of the strongest character who give everything they have to accomplish their mission and support the men on their team.  The second part of the training, SEAL Qualification Training (SQT),  is designed to provide candidates with the core tactical knowledge they will need to join a SEAL Platoon.
A Soldier's Child Foundation
WTS | First Defense employees and families donated their time and talent for this worthy cause.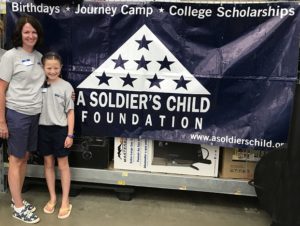 With a mission of serving children of military personnel who have lost their lives on active duty, while defending the United States of America. ASC has three points of service for the children of our fallen:
Birthday Celebrations
Celebrating recipient's birthday every year up to age 18, spending $150 according to the child's specific gift interview form.
Mentorship Programs
Journey Camp experience for recipients between the ages of 10-16.  A week-long summer camp hosted by ASC, kids are encouraged to attend for at least 3 years.  ASC also offers exciting hunting and fishing programs (10-16 years of age) currently in TN, TX, SC and LA.  ASC kids were featured on the World Fishing Network all of 2016 in the Force on Force fishing tournament hosted by Army Bass Anglers.  ASC has a leadership development program (PS23) designed for ASC young adults between the ages of 17-25.  PS23 is an intensive outdoor weekend focusing on mind, body and spirit.
College Scholarships
ASC facilitates in college scholarships for recipients through partner organizations: Fallen Patriots Foundation and Folded Flag Foundation. Presently, just under 2,500 children enrolled in all 50 states. ASC is so grateful for volunteers all over our country committed to help honor our national treasure; the children of our fallen military servicemen and servicewomen.
School Presentation
WTS | First Defense is invited yearly to a local elementary school to demonstrate how water from streams and ponds are processed to create clean drinking water.
Career Day
This day provides students with a dynamic and tangible experience that facilitates a connection between their academic pursuits and professional endeavors in the future. Additionally, Career Day provides a platform to develop meaningful and personal connections between students, alumni, parents and friends.  Career Day is one way that WTS | First Defense encourages students to explore their interests and passions as an extension of their academic program and in the process better understand themselves, their community, and the world.